Christmas Celebration offers Assignment Help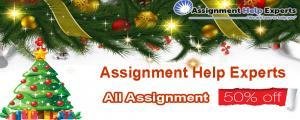 With the upcoming Christmas holidays you must be all set to celebrate the long awaited festivities with family and friends but being a university student there are always some strings attached relating to assignments and papers in various subjects. When you have credits attached to homework, there is no way you can neglect them.
This is the situation of every student and truthfully speaking nobody wants to spoil his or her holidays on the boring routine tasks of completing assignments. To help you get away from this problem we have come up with a special assignment help. Now you can seek our efficient homework completion services at highly discounted rates. So whatever be your homework type be it dissertation, case study, research paper or term paper you can completely rely on us to provide the best content according to your needs.
Our highly qualified team of academic writers is all set to take up your assignment tasks. All you are supposed to do is to visit our online portal and enlist your homework requirements such as assignment type, word limit, date of submission, citation styles in the prescribed format. On this basis we will provide you a list of writers who are ready to extend their services. From that you can select whoever you find best for your work after looking at their qualifications and experience. Rest assured we follow a highly organized procedure to make sure the material delivered is entirely error free and devoid of any plagiarism. Our every assignment is uniquely prepared and special care is taken of so that nothing gets repeated.
So this Christmas break you can fully enjoy the parties and family gatherings without having to worry about your homework. All Assignment Help