You may wonder why we are the World's No. 1 Assignment Help Company ? We have several reasons to claim that title. Our company has been helping students more than 15 years, a network of more than 3000 tutors with about 100 tutors working as full time employees working from our headquarter office, offices in many cities across world, helped about half a million students, done about a million assignments and 100K research and capstone projects.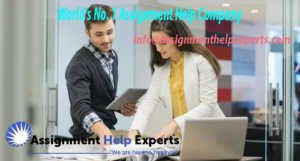 Our perspective towards assignment help is entirely different from our competitors where as most of the assignment writing company don't bother about the quality of the assignments as long as the basic mistakes likes plagiarism is not there, or simple language mistakes are not there.
However, our concern is to product high quality content that could make you really excel in your assignments. We take references from the world class databases like Harvard Business Review with rating of AAA and have premium access to the portals like Business Source Complete, Science Direct, Emerald to product really high class work for the students. Also, we are so sure of our quality that we do not insist on receiving 100% payments in advance only. We are fine with receiving 20% to 50% payment in advance and remaining can be made once we complete the assignment for you.
We are sure that our work quality would be such that it would never been an issue with you to pay our very reasonable fees. We charge very optimum and reasonable prices that students can easily afford Sometimes students ask for sample assignments of particular subjects and we can provide sample of any related field and topic as per the student requests. We believe in 100% privacy and data protection and all your details are kept confidential and not shared with anyone. So, click now to avail to Assignment help services from the World's No. 1 Assignment Help Company.